New Hand Gun Owner Class
If you have recently purchased your first handgun
this is the class for you! 
This is a group class for new handgun owners
to learn the fundamentals. 
Handgun Safety in the home

Understanding how your handgun works

How to properly maintain and store your handgun and ammunition

Basic handgun marksmanship

Basic defensive handgun skills and considerations.
Bring your family and learn together!
Services & Training
We are here to help!
 CCW Training
 Estate Appraisals
 Shooting Lesson & Safety
 Firearm Customization
Have you ever wanted to shoot a handgun?
Now you can!
1 hour of shooting instruction (Everything Included)
Basic safety and firearms handling
Basic handgun shooting techniques
Classes are currently filling up for every Saturday at 5:00 PM
Classes are offered for a limited time at a discounted rate of $40 per person
Individual shooting lessons are also available by appointment $75/hour
More at Shooting101.net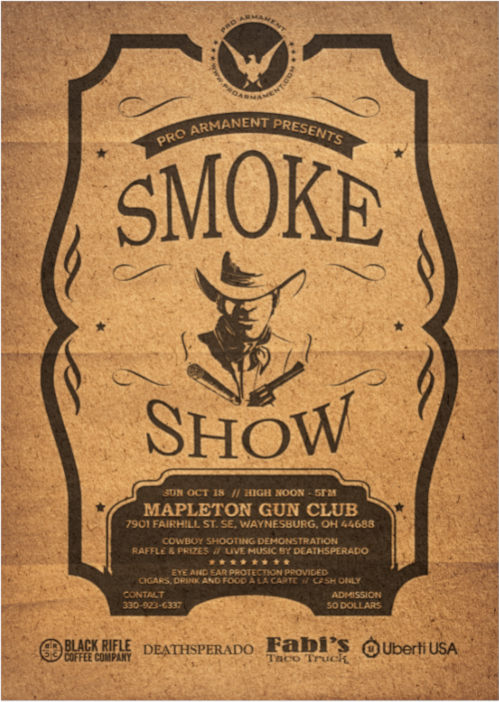 Sunday October 18th
High noon – 5pm
Admission includes shooting 3 classic western firearms. Single action revolver, 1873 Winchester Lever action carbine & 45/70 Sharps carbine.
Each shoot thereafter is an additional $5.00
Cigars & Food A La Carte
CASH ONLY
Purchase Tickets in advance at Pro Armament Co.
Tickets may also be purchased the day of the event.
Call us at 330-923-6337 with any questions.
Event Held at: Mapleton Gun Club
7901 Fairhill ST. SE
Waynesburg, OH 44688