Specials Are Updated Frequently
Sign up for our newsletter below to receive updates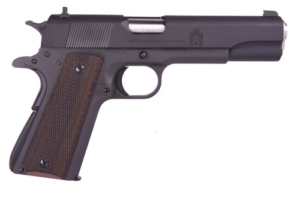 Springfield Armory 1911-A1 Defender Mil-Spec .45acp $499.99
The Springfield Armory Mil-Spec, features a carbon steel frame and slide that is fully forged, rather than cast, for the utmost durability. The 5-inch Match Grade stainless steel barrel is also forged for lifetimes of use. The slide has slanted serrations and the mainspring housing is the original arched style found on GI issue 1911-A1s. The Mil-Spec 1911 also features fixed 3-dot sights, a lowered and flared ejection port, and a single-sided thumb safety. Each Mil-Spec comes with fully-checkered wood grips, unique to this Defenders Series model. This classic 1911 has a Parkerized finish to combat corrosion, and comes with one 7-round magazine.
Temporarily out of Stock.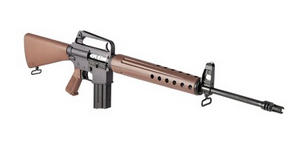 Replica of the Original AR-15 Prototype
A faithful replica of Eugene Stoner's very first AR-15 prototype. If you're an AR-15 aficionado or collector, the BRN-Proto® is a rifle you should not be without! Based on AR-15 Serial Number One, the Brownells BRN-Proto® sports a wealth of unique, historically accurate features you will not see on later AR-15 / M16 models.
Chambered for modern 5.56x45mm NATO (.223 Remington compatible) ammunition
Robust forged/machined 7075 T6 aluminum receivers
20″ barrel with 1-12″ rifling for compatibility with modern ammo
Rifle-length gas tube
Chrome-plated bolt / carrier group machined from 9310 carbon steel
Comes with one 25-rd magazine
$1049.99
Ammunition, Holsters, Optics, Knives,
and other accessory specials