Specials Are Updated Frequently
Sign up for our newsletter below to receive updates

Colt M4 SOCOM $1599.99. This classic US Military Reproduction closely replicates the markings and configuration of the M4A1 SOCOM Carbine. The lower receiver features PROPERTY OF THE US GOVT, M4A1 CARBINE, and CAL. 5.56 MM. The barrel is a true SOCOM 14.5″ heavy barrel with the M203 flats under the Knights Armament Rail System. Extended flash hider has been pinned and welded to achieve a non-NFA length of 16.1. Includes the side sling swivel at the gas block, correct rear sight and ambidextrous safety selector.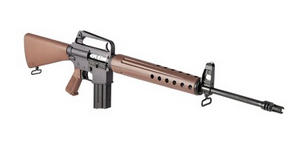 Replica of the Original AR-15 Prototype
A faithful replica of Eugene Stoner's very first AR-15 prototype. If you're an AR-15 aficionado or collector, the BRN-Proto® is a rifle you should not be without! Based on AR-15 Serial Number One, the Brownells BRN-Proto® sports a wealth of unique, historically accurate features you will not see on later AR-15 / M16 models.
Chambered for modern 5.56x45mm NATO (.223 Remington compatible) ammunition
Robust forged/machined 7075 T6 aluminum receivers
20″ barrel with 1-12″ rifling for compatibility with modern ammo
Rifle-length gas tube
Chrome-plated bolt / carrier group machined from 9310 carbon steel
Comes with one 25-rd magazine
$1624.99
Ammunition, Holsters, Optics, Knives,
and other accessory specials