Specials Are Updated Frequently
Sign up for our newsletter below to receive updates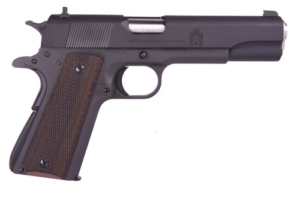 Springfield Armory 1911-A1 Defender Mil-Spec .45acp $499.99
The Springfield Armory Mil-Spec, features a carbon steel frame and slide that is fully forged, rather than cast, for the utmost durability. The 5-inch Match Grade stainless steel barrel is also forged for lifetimes of use. The slide has slanted serrations and the mainspring housing is the original arched style found on GI issue 1911-A1s. The Mil-Spec 1911 also features fixed 3-dot sights, a lowered and flared ejection port, and a single-sided thumb safety. Each Mil-Spec comes with fully-checkered wood grips, unique to this Defenders Series model. This classic 1911 has a Parkerized finish to combat corrosion, and comes with one 7-round magazine.
Temporarily out of Stock.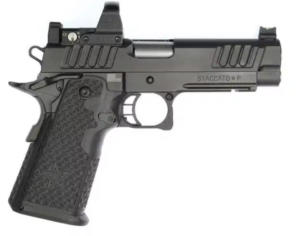 Staccato P DUO.
DAWSON® UNIVERSAL OPTIC SYSTEM
$2,499
Barrel – 4.4 inch Bull Barrel
Finish – Diamond Like Carbon, Black
Magazines – 1x 17-Round & 2x 20-Round
Trigger – 4 lbs with Ambi Safety Levers
Dawson Precision Perfect Impact® Sights
Front – Fiber Optic
Rear – Tactical Dawson® Universal Optic System
Recoil System – Dawson 4.4 Adaptive Tool-less Recoil System
Grip – 2011® G2, Full Length, Black
Frame – Billet Steel Frame w/ Accessory Rail
Caliber – 9mm
Electronic Red dot sight not included.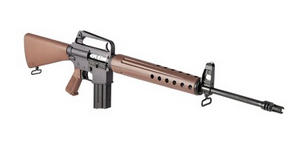 Replica of the Original AR-15 Prototype
A faithful replica of Eugene Stoner's very first AR-15 prototype. If you're an AR-15 aficionado or collector, the BRN-Proto® is a rifle you should not be without! Based on AR-15 Serial Number One, the Brownells BRN-Proto® sports a wealth of unique, historically accurate features you will not see on later AR-15 / M16 models.
Chambered for modern 5.56x45mm NATO (.223 Remington compatible) ammunition
Robust forged/machined 7075 T6 aluminum receivers
20″ barrel with 1-12″ rifling for compatibility with modern ammo
Rifle-length gas tube
Chrome-plated bolt / carrier group machined from 9310 carbon steel
Comes with one 25-rd magazine
$1049.99

Czech Small Arms VZ58. 7.62×39.
The Sa vz.58 in 7.62×39 is manufactured by Czech Small Arms in Jablunka, Czech Republic and includes the following:
– high quality hammer forged chrome lined 16.15″ barrel with removable muzzle nut. Barrel manufactured by Lothar Walther in Germany
– bayonet lug attached for use with surplus bayonets
– patented push-down plate on bolt carrier to prevent misfire issues (Czech Small Arms vz. 58 firearms are the only vz. 58s manufactured with this vital part to ensure reliability)
– drilled and tapped side rail holes in receiver for do-it-yourself side rail installation for optic mounts
– gray/blue paint
– two 30 round magazines
– cleaning kit (does not include oil can)
– sling
– 5 year warranty
Ammunition, Holsters, Optics, Knives,
and other accessory specials